In Ireland many companies are behind the times with their digital presence.
Whether it's because it seems too difficult to setup or hard to figure out, one thing is clear. Companies who do not have an online presence are missing out on potential business.
That's because in today's society, when someone want's something they simply pull out their smartphone and "Google" what they want to find. It could be an answer to a question, or to find a local restaurant, or where to buy a specific product. If you're not optimised for these you're missing out.
So What Should Companies Be Doing?
At a bare minimum companies should be focused on having an accurate, up to date Google My Business listing. This is a FREE service provided by Google that pushes information to search results and Google maps. Below are two examples of this:
The first example below shows three local results for the search result. The ones that show up in the local pack (Lemon Leaf Cafe, Food U, and Vista Bistro) are the local results powered by Google My Business.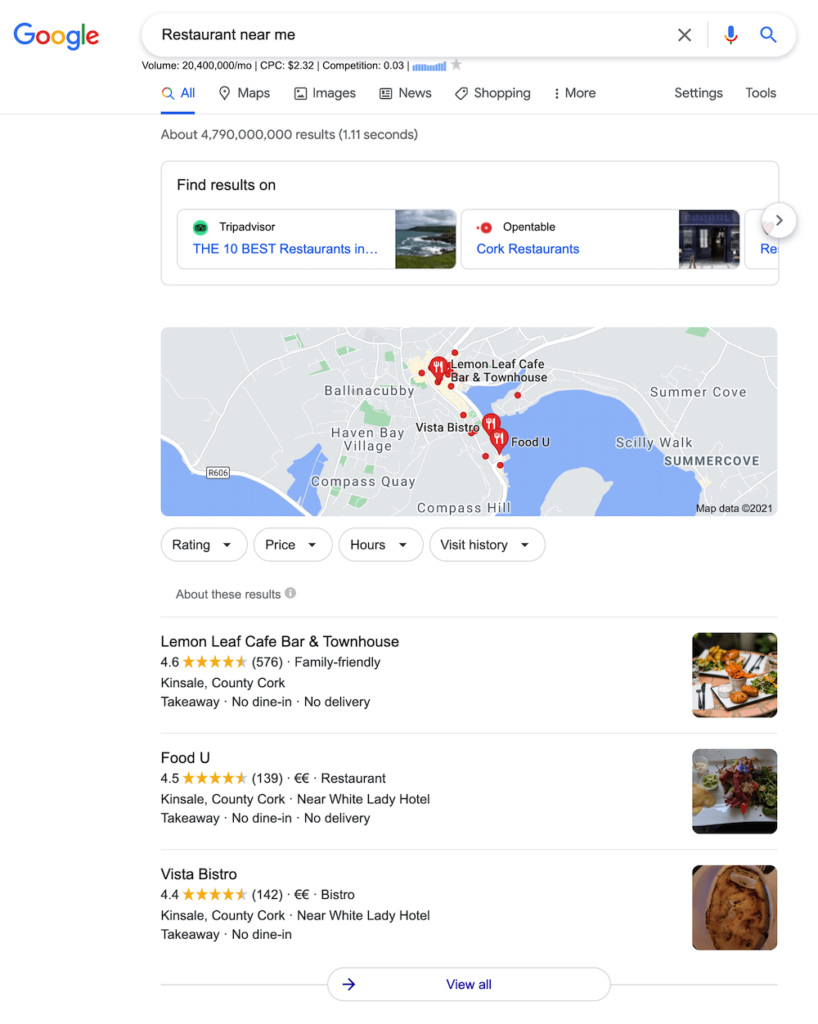 In a traditional Google search the local results powered by GMB will show up above organic results.
Google My Business also powers Google Maps results as shown below. Keep in mind these are computer screenshoots, but the Google Maps application is very popular and these results also show within the app.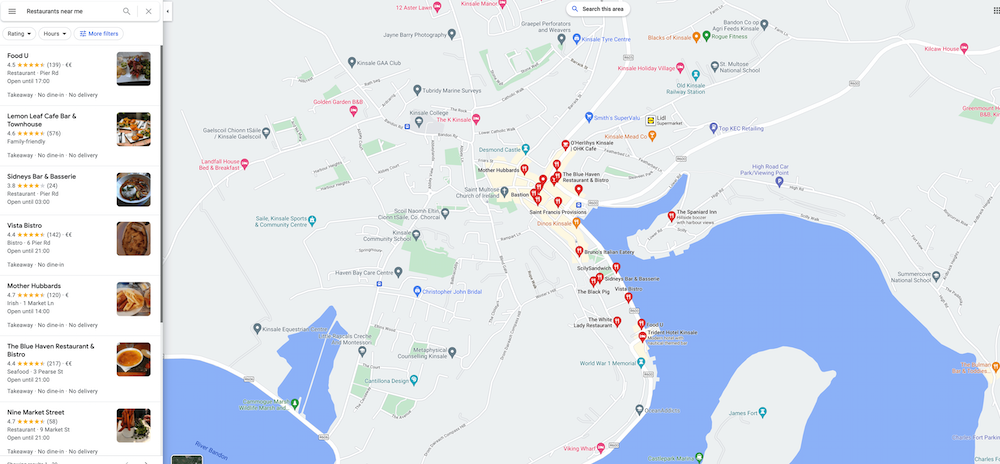 Impress Potential Customers
Your potential customers are using their smartphones and searching the internet for quick information. If your business is not claimed, does not have your business hours, or pandemic hours you may also get a bad review from someone who called to your location and found your closed.
So at a bare minimum, Irish companies should fill out the following information on their Google My Business Profile
Business Name
Address (where customers can find you)
Your Phone number so they can ring you
Your website. If you don't have a website you can get a free one from Google. If you use Facebook or something else as your "website" feel free to link to that. Make sure it's where you update the most often.
Your business hours
Whether you're open or closed
Remember that very happy customers can leave good reviews which will also promote your business. Where as pissed off customers will also leave a review – but it will be a negative one which will hurt your online presence.
Claim and Update Your Google My Business Profile
Have you claimed or updated your Google My Business Profile? If not you need to get on it right away and make it part of your normal business operations process.
Need help claiming or adding a new business to GMB? Click here to learn more.
Do you need help setting up your Google My Business listing or optimizing it to outrank your competitors? Contact me to discuss.
He who ranks the best gets the most business.